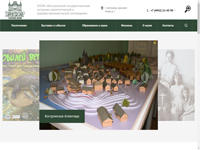 1065 rating place
by visitors' votes


The Site of the Kostroma State Historical, Architectural & Arts Museum Reserve comprises 7 sections:
-The main pages where you can see the latest news of the Museum read press releases and learn what will take museum on the nearest days
- News and announcements with more detailed information on events that taken place or will take place in the Museum. Here you can also see photos of important and bright events
- Buildings, history, architecture. Here you can learn the creation history of the Museum, see photos of the Museum
- Collections. Information on exhibits of the Museum is given here. The most valuable specimens - pride and glory of our Museum - are also presented here
- Service. Rates for conducted tours et al are given
- Branches. Inasmuch as our Museum has 16 branches in the region, information on each of them is given in this section: addresses, telephone numbers, exhibitions, valuable exhibits, planned exhibits. Photos of museums and their exhibitions are presented
- Our contacts.
Welcome to ourl Site!