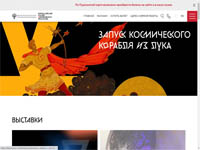 476 rating place
by visitors' votes


The visitors can get acquainted with Russian folk and decorative-applied art of the 18th Ц early 20th centuries. They can see woodwork, old Russian costumes and headdresses, a collection of samovars, 18th century ivory and bronze, Russian malachite and lacquer miniature of the 19th century, porcelain and glassware from the middle of the 18th till the early 20th centuries. The museum exhibits a rich collection of furniture in neo-Russian style and also a unique collection of У propagandaФ porcelain (1918 Ц 1921y.) and many other interesting things.
Both groups and individuals are invited.
Welcome to the museum!