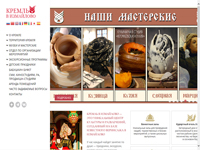 1060 rating place
by visitors' votes


Kremlin in Izmailovo is a unique cultural and entertainment complex which was created on the basis of the world famous Vernisage in Izmailovo souvenir market.
Here everyone can find occupation according to their interest: cheerful holidays, educational tours, master-classes in traditional Russian handcrafts, delicious meals in the restaurants and cafes. For children we can offer joyful games, adults can visit our museums, young couples can celebrate their wedding here, for businessmen there is the business-center.
In addition, there are presents and souvenirs, horse riding, feeding tame pigeons and lots of other amusements for every guest.
Come to the Kremlin in Izmailovo – a unique place in Moscow where the Russian history and fairy-tale are deeply intertwined with the present!