The State Historical and Memorial Complex "Lenin's Hometown"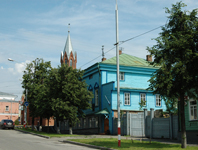 Phone: (8422) 32-4532

Address: 432017, Ylyanovsk region,

Working hours:*

Internet:
www.russianmuseums.info/M1041 - official web page
The State historical memorial complex "Lenin`s hometown" - W1182, official web site www.ulzapovednik.ru



E-Mail:




billboard, events and excursions




Description:


The State Historical and Memorial Complex "Lenin's Hometown" is a unique set of historical, cultural and architectural monuments of old Simbirsk (now Ulyanovsk).

The fundamental responsibility and priority of the Complex is conservation and restoration of old monuments. Our main aim is to give our visitors a vivid idea of a typical provincial town of the second half of the 19th century.

The Complex includes 16 museums and an Exhibition Hall. We have restored a fragment of the Simbirsk Fortress (the tower with a picket fence) and a part of Moscovskaya Street with a cobbled pavement.

The total area of the Complex is 174,3 hectares. The Complex was founded on October 2 1984 in accordance with the Decree of the USSR Council of Ministers



Museum's services:
museum shop

Next to the museum there are:
hotels and restaurants




for museum professionals


Administrative phone:
(8422) 32-6362, Fax: (8422) 32-6362



Foundation and opening day:
founded: 02.10.1984

Organisation status:
Federal

Organization form:
non-for-profit

Organisation type:
culture for society, scientific

Classification:
Regional museum,Museum preserve,Memorial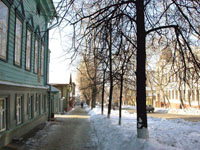 Squares:
permament show rooms 1556,4м2
museum's store 349,6м2
museum's parks 174,3га

Employee number:
128 (curators: 55)

Average visitors per year:
196270


Specific departments:
archive, science library, restoration dep. (дерево, предметы на бумажной основе)

Collections volume:
40767, rare collection's items: 29267



Web sites and CD-disks:
above

Copyright (c) 1996-2017 The State Historical and Memorial Complex "Lenin's Hometown"
Copyright (c) 1996-2019 Russian Museums .info