State Autonomic Cultural Institution of Tyumen region "Museum Complex after Ivan Slovtsov"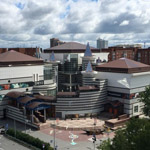 Phone: (3452) 45-35-90

Address: 625000, Tyumen region,

Working hours:*

Internet:
www.russianmuseums.info/M1102 - official web page
- W735, official web site museum-72.ru/



E-Mail:




billboard, events and excursions




Description:


Tumen Regional Museum of Regional Studies is one of the oldest in Syberia. The Museum was organized in 1879 by Ivan Slovtsov. I.Slovtsov was a passionate collector. His collection of Siberian antiquities made up the basis of Omsk and Tumen museums. The collections of Ivan Slovtsov and Nikolai Chukmuldin were exhibited in the building of a modern scool until 1922. From its very begining Tumen Museum was conceiwed as a many-faseted museum of regional studies and sciences it's grew to become one of the largest museums in Russia. In the late 19 century it's collections were comparable to those in major European museums. From 1989 onwards, the Museum organized annual scientific conferences devoted to regional studies which are known as the "Slovtsov readings" and attract all leading scientists of west Syberia, museum curators, specialists in local lore, teachers, and students of higher educational establishments. 180000 to 200000 visitors attend the Museum annually. Its staff carries out specialized programmes intended for different categories of population. Today, Slovtsov Museum of Regional Studies has 6 branches. The main building houses the "Town Hall" museum.



Museum's services:
museum shop

Next to the museum there are:
hotels and restaurants




for museum professionals


Administrative phone:
(3452) 46-80-71, Fax: (3452) 46-80-71



Foundation and opening day:
founded: 1879ã.

Organisation status:
State Russia

Organization form:
non-for-profit

Organisation type:
culture for society, scientific

Classification:
Architect and monuments,Natural history,Historical,Regional museum,Museum preserve,Painting art

Squares:
permament show rooms 3579,3ì2
temporary exhibitions 100ì2
museum's store 2156ì2

Employee number:
176 (curators: 77)

Average visitors per year:
142390


Specific departments:
archive, science library, restoration dep.

Collections volume:
357945, rare collection's items: 219763



Web sites and CD-disks:
above

Copyright (c) 1996-2020 State Autonomic Cultural Institution of Tyumen region "Museum Complex after Ivan Slovtsov"
Copyright (c) 1996-2023 Russian Museums .info