State Museum-Preserve "Tsarskoye Selo"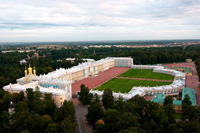 Phone: (812) 465-2024 (автоответ.), 465-9424 (экс. бюро)

Address: 196601, Saint-Petersburg, 7, Sadovaya Ulitsa, Pushkin Town

Working hours:*

Internet:
www.russianmuseums.info/M119 - official web page
The State Museum "Tzarskoje Selo" - W399, official web site tzar.ru



E-Mail:




billboard, events and excursions




Description:


The Tsarskoye Selo palace and park ensemble (the Tsarskoye Selo State Museum-Preserve) is a superb monument of world-ranking architecture and garden-and-park design dating from the eighteenth to early twentieth centuries. A whole constellation of outstanding architects, sculptors and painters made the ideas of their crowned clients a reality here. Tsarskoye Selo is a cluster of very fine examples of Baroque and Classical architecture and it was also the first place in the Russian capital where interiors decorated in the Moderne (Art Nouveau) style appeared.

The compositional centre of the ensemble is the Great Tsarskoye Selo or Catherine Palace - a splendid example of the Russian Baroque. Visitors are enraptured by the sumptuous dеcor of the Great Hall and the Golden Enfilade of state rooms that includes the world-famous Amber Room now returned to life. Today, as we enter the palace, we can sense the spirit of the times of Empresses Elizabeth and Catherine II and admire unique works of fine and applied art.

Tsarskoye Selo is also home to one of the finest creations of Classicism in architecture - the Alexander Palace. Passing through the rooms of the living apartments that are open to visitors, you can get an idea of the aesthetic preferences of the last members of the Romanov dynasty and view the Emperor's State Study that was decorated in the Moderne style



Museum's services:
museum shop, museum's caffe, equipped for people with disabilities

Next to the museum there are:
hotels and restaurants




for museum professionals


Administrative phone:
(812) 466-6669, Fax: (812) 465-2196



Foundation and opening day:
founded: 09.06.1918

Organisation status:
Federal

Organization form:
non-for-profit

Organisation type:
culture for society

Classification:
Architect and monuments,Museum preserve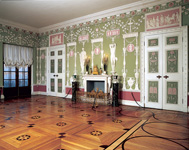 Squares:
permament show rooms 8623м2
temporary exhibitions 1068,3м2
museum's store 14659м2
museum's parks 289га

Employee number:
761 (curators: 35)

Average visitors per year:
2900000


Specific departments:
archive, science library

Collections volume:
36505, rare collection's items: 32224



Web sites and CD-disks:
above

Copyright (c) 1996-2022 State Museum-Preserve "Tsarskoye Selo"
Copyright (c) 1996-2023 Russian Museums .info