Museum "History of a Baikal-Amur trunk-railway"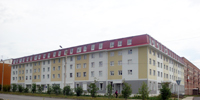 Phone: (30130) 2-16-63

Address: 671700, Buriat Republic, Severobajkalsk, the lane Proletarian, 5

Working hours:* Warning:
preodered group visits only

Internet:
www.russianmuseums.info/M1200 - official web page

E-Mail:




billboard, events and excursions




Description:


The museum of history of a Baikal-Amur trunk-railway is opened on November, 20th 1981. The museum exhibition is devoted history of research, designing, building of a trunk-railway in the north of Buryatiya. The basic sections of an exposition: social and economic history of Severobaikalsk; the pre-war period of research of a line of the future highway (1930-1940); building of tunnels; the natural property and activity of the oldest reserve "Barguzinsky"



Next to the museum there are:
restaurant(s) or caffes




for museum professionals


Administrative phone:
(30130) 2-77-28, Fax: (30130) 2-16-63



Foundation and opening day:
opened: 20.11.1981

Organisation status:
Municipal

Organization form:
non-for-profit

Organisation type:
culture for society

Classification:
Historical,Regional museum,Science and technics



Squares:
permament show rooms 234м2

Employee number:
4 (curators: 1)

Average visitors per year:
5700


Specific departments:
archive

Collections volume:
4934, rare collection's items: 1366



Web sites and CD-disks:
above

Copyright (c) 1996-2012 Museum "History of a Baikal-Amur trunk-railway"
Copyright (c) 1996-2023 Russian Museums .info