The Main Literary Monographic Exhibition "Alexander Pushkin. Life and Creative Work"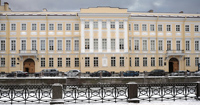 Phone: (812) 314-00-07

Address: 191186, Saint-Petersburg, 12, Moyka Nabarezhnaya

Working hours:*

Internet:
www.russianmuseums.info/M1220 - official web page
The National Pushkin Museum - W1007, official web site museumpushkin.ru



E-Mail:




billboard, events and excursions




Description:


In 1999, on the eve of Alexander Pushkin's bicentenary birthday, the Main Literary Monographic Exhibition "Alexander Pushkin. Life and Creative Work" was opened in the rooms on the second and third floors of Volkonsky's mansion (River Moika, 12) where Pushkin's last apartment is located. This exhibition based on the materials of Pushkin's time tells about the poet as a key figure of the "Golden Age" of Russian culture. Its seventeen rooms present authentic documents of the eighteenth-first half of the nineteenth centuries regarded as pride of the National Pushkin Museum collection, including engravings, lithographs, watercolors, miniature portraits, as well as lifetime portraits of Pushkin, his contemporaries, ancestors, historical figures of his epoch, and representatives of Russian and European culture. On display also are painting featuring Russian and European historical events from the time of Peter the Great' s reforms and the age of Enlightenment up to 1830-ies; views of different sites and towns in Russia; rear books; relics and household items (furniture, pieces of applied arts) which enrich historical and literary documents with bright and vibrant details. One of the most amazing items of the exhibition is the Naschokin Doll House (a miniature replica of the house in Moscow which belonged to Pushkin's friend Pavel Naschokin) regarded as a unique monument of the noble society life at that time.

In general, the displayed exhibits recreate the historical, literary and memorial context of Pushkin's epoch; and the story of Pushkin's life against the background of major historical events lends this exhibition an encyclopedic significance



Museum's services:
museum shop, museum's caffe

Next to the museum there are:
hotels and restaurants




for museum professionals


Administrative phone:
(812) 571-38-01, Fax: (812) 315-73-79



Foundation and opening day:
opened: 06.06.1999

Organisation status:
Federal

Organization form:
non-for-profit

Organisation type:
culture for society, scientific

Classification:
Literature,Memorial

Squares:
permament show rooms 970,7м2

Employee number:
26

Average visitors per year:
17 000


Collections volume:
2043, rare collection's items: 1312



Web sites and CD-disks:
above

Copyright (c) 1996-2022 The Main Literary Monographic Exhibition "Alexander Pushkin. Life and Creative Work"
Copyright (c) 1996-2023 Russian Museums .info