Museum "Literature and Art. XXth century"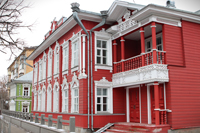 Phone: (8172) 72-8374

Address: 160000, Vologda region,

Working hours:*

Internet:
www.russianmuseums.info/M1311 - official web page
The Vologda State Museum-Preserve of History, Architecture and Decorative Arts - W617, official web site www.vologdamuseum.ru/

Museum "Literature and Art. XXth century" - W605
litera-xx.narod.ru/



E-Mail:




billboard, events and excursions




Description:


The museum "Literature and Art. XXth century" is situated in the central part of Vologda. It occupies a two-story wooden house, its balcony and windows are decorated with very attractive carving. Later the house belonged to the merchant - Sotnikov. The museum presents two exhibitions that tell about life and creative works of the well-known Russian poet Nikolay Rubtsov and talented Vologda composer Valery Gavrilin. There are unique exhibits: autographs, photos, private things belonged to N. Rubtsov and V. Gavrilin. Poetic festivals, meetings with literary men, festive events are held here and thanks to busy life the museum attracts a lot of young people



Museum's services:
museum shop

Next to the museum there are:
hotels and restaurants




for museum professionals


Administrative phone:
(8172) 72-2283, Fax: (8172) 72-2283



Foundation and opening day:
opened: 2005г.

Organisation status:
State Russia

Organization form:
non-for-profit

Organisation type:
culture for society

Classification:
Literature,Musical,Memorial

Squares:
permament show rooms 165,8м2

Employee number:
5 (curators: 3)

Average visitors per year:
ок. 10000




Web sites and CD-disks:
above

Copyright (c) 1996-2017 Museum "Literature and Art. XXth century"
Copyright (c) 1996-2019 Russian Museums .info