Municipal Institution of Culture "Kizner Local History Museum"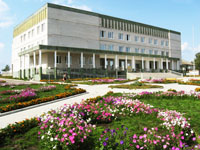 Phone: (34154) 3-1030

Address: 427710, Udmurt Republic,

Working hours:*

Internet:
www.russianmuseums.info/M1325 - official web page

E-Mail:




billboard, events and excursions




Description:


Kizner Local History Museum was founded in September 1989 and opened in the former school building. In 2009 the museum moved to the new building of District Cultural Centre. Kiznersky District situated in south-western part of the Udmurt Republic. Ethnographic exposition introduced to the way of life, traditional handicrafts of Southern Udmurts. The heart of the exposition is the Udmurts' family sanctuary - kuala. Collection of the costume complexes of the peoples living in the area of Kiznersky District is represented on view



Next to the museum there are:
restaurant(s) or caffes




for museum professionals


Administrative phone:
(34154) 3-1030, Fax: (34154) 3-1478



Foundation and opening day:
opened: 01.09.1989

Organisation status:
Municipal

Organization form:
non-for-profit

Organisation type:
culture for society, scientific

Classification:
Historical,Regional museum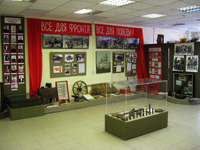 Squares:
permament show rooms 433,3м2
temporary exhibitions 69,4м2
museum's store 107,4м2

Employee number:
11 (curators: 3)

Average visitors per year:
5000


Collections volume:
7914, rare collection's items: 4252



Web sites and CD-disks:
above

Copyright (c) 1996-2012 Municipal Institution of Culture "Kizner Local History Museum"
Copyright (c) 1996-2019 Russian Museums .info