Studies Complex "Permafrost Museum"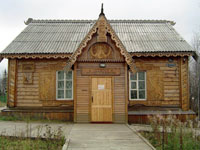 Phone: (39172) 2-30-11, 2-29-95

Address: 663200, Krasnoyarsk area,

Working hours:*

Internet:
www.russianmuseums.info/M1405 - official web page
Studies Complex "Permafrost Museum" - W1630, official web site www.igarka-permafrostmuseum.ru/



E-Mail:




billboard, events and excursions




Description:


Complex of Regional Studies "Permafrost Museum " was opened in 1991. It includes the History Section,

the Nature section and properly the unigue Museum in permafrost, which was founded by the Permafrost Research Station in 1965. Since 1930 the underground rooms were used by scientists as a laboratory for the studying of the pevmafvost's propevties. The permafrost itself is the main exhibits in the underground rooms and passages at a depth of 8-10 m., as well as trees 24.500 years old, relic ice from the " Ice Mountain" 50.000 years old etc. Also Museum includes the Section of the history of the Salekhard-Ygarka-railway, which was built upon the Stalin's order and was neglected in 1953 ( " Dead Railway"); expositionz about repressiont and exiles? about creativity of writer Astafiev.



Museum's services:
museum shop, equipped for people with disabilities

Next to the museum there are:
restaurant(s) or caffes




for museum professionals


Administrative phone:
(39172) 2-27-44, Fax: (39172) 2-30-11



Foundation and opening day:
founded: 19.03.1965
opened: 01.07.1991

Organisation status:
Municipal

Organization form:
non-for-profit

Organisation type:
culture for society, scientific

Classification:
Historical,Regional museum,Memorial,Painting art

Squares:
permament show rooms 470м2
temporary exhibitions 120м2
museum's store 50м2

Employee number:
22 (curators: 8)

Average visitors per year:
3600


Specific departments:
archive, science library

Collections volume:
8877, rare collection's items: 6178



Web sites and CD-disks:
above

Copyright (c) 1996-2019 Studies Complex "Permafrost Museum"
Copyright (c) 1996-2022 Russian Museums .info