Museum Estate "Piter I Botic"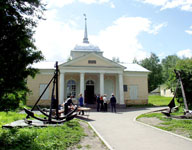 Phone: (48535) 6-21-16

Address: 152140, Yaroslavl region,

Working hours:*

Internet:
www.russianmuseums.info/M1460 - official web page
Pereslavl-Zalessky Museum-reserve - W1039, official web site museumpereslavl.ru/



E-Mail:




billboard, events and excursions




Description:


The Russian naval history was re-created in the early 19th century when the Governor of Vladimir, poet and historian Ivan Mikhailovich Dolgoruky, built a stone mansion for the Peter Museum on the place where the fleet originated, on money donated and collected by people of the Pereslavl Uyezd. The Museum was ceremonially inaugurated on August 1,1803. Nowadays there are rare exhibits of the Peter's toy fleet in the Museum. The Museum can also boast rare pictures, engravings, portraits and sculpture from the 18th century. A monument to Peter the Great was unveiled on August 17, 1852, in front of the Museum. On 1918 the "Jolly-Boat" Estate was proclaimed a State Monument of History. The exposition under the title of "The Pleshcheyevo Lake as the Cradle of the Russian Navy" opened on July 29,1984.



Next to the museum there are:
restaurant(s) or caffes




for museum professionals


Administrative phone:
(48535) 6-21-16, Fax: (48535) 2-3124



Foundation and opening day:
founded: 01.09.1803

Organisation status:
State Russia

Organization form:
non-for-profit

Organisation type:
culture for society

Classification:
Architect and monuments,Historical



Squares:
permament show rooms 535м2
museum's parks 10га

Employee number:
9 (curators: 3)

Collections volume:
238, rare collection's items: 126



Web sites and CD-disks:
above

Copyright (c) 1996-2022 Museum Estate "Piter I Botic"
Copyright (c) 1996-2023 Russian Museums .info