The Museum of History of Stone-Carving Skill of Altai



Phone: (38576) 25-341

Address: 658332, Altai area,

Working hours:*

Internet:
www.russianmuseums.info/M1497 - official web page

E-Mail:




billboard, events and excursions

Description:
The museum of the history of stone-carving was founded in 1989. It was founded attached to the Polzunov stone-carving works in Kolyvan. The traditions of stone-carving skill can be traced to the late 18th-early 19th c.
When an imperial grinding works which dealt with semi-precians stone meshinging was constructed. Most part of the articles of the Kolyvan grinding works are kept in the depositories of the Hermitage and in other Russion museums. The museum in the Altai has in it's funds interesting collections of sem precious stones found in the Altai wonderful articles made by the masters of the 19th c., items which reflect the history and development of the works.
for museum professionals


Administrative phone:
(38576) 25-341, Fax: (38576) 25-341



Foundation and opening day:
founded: 1985г.
opened: 24.06.1988

Organisation status:
Municipal

Organization form:
non-for-profit

Organisation type:
culture for society

Classification:
Historical,Science and technics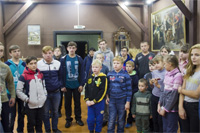 Squares:
permament show rooms 163м2
museum's store 16м2

Employee number:
3 (curators: 1)

Average visitors per year:
6500


Collections volume:
2400, rare collection's items: 1500



Web sites and CD-disks:
above

Copyright (c) 1996-2013 The Museum of History of Stone-Carving Skill of Altai
Copyright (c) 1996-2020 Russian Museums .info