State Museum Preserve "Rostov Kremlin"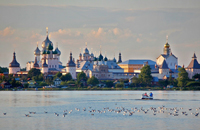 Phone: (48536) 6-1717 - экс. отдел

Address: 152151, Yaroslavl region, Museum, Kremlin, Rostov

Working hours:*

Internet:
www.russianmuseums.info/M1649 - official web page
The State Museum and Reserv "Rostov Kremlin" - W195, official web site www.rostmuseum.ru



E-Mail: ,




billboard, events and excursions




Description:


The State Museum Preserve "Rostov Kremlin" is situated on the territory of the unique architectural ensemble of the XVIIth century - Archbishop's Yard. Five churches, three of them have wonderful frescoes of the XVIIth, some chambers with museum exhibitions are encircled with high walls and towers. The museum was founded in 1883 by antiquity lovers and sincere patriots of Rostov Shlyakov I.A. and Titov A.A. Now our museum collection possesses about 92000 exhibits. There are icons, oil paintings, wooden house-hold utensils, porcelain, archeological findings. The museum's pride is the collection of enamels.



Museum's services:
museum shop, lecture hall, museum's caffe

Next to the museum there are:
hotels and restaurants




for museum professionals


Administrative phone:
(48536) 6-1502, Fax: (48536) 6-3294



Foundation and opening day:
founded: 10.11.1883

Organisation status:
Federal

Organization form:
non-for-profit

Organisation type:
culture for society, scientific

Classification:
Architect and monuments,Historical,Museum preserve,Painting art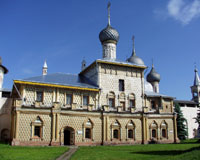 Squares:
permament show rooms 3972,8м2
museum's store 1876,1м2
museum's parks 3,7га

Employee number:
318 (curators: 68)

Average visitors per year:
200000


Specific departments:
archive, science library, restoration dep. (темпера, бумага, дерево, металл)

Collections volume:
188431, rare collection's items: 100258



Web sites and CD-disks:
above

Copyright (c) 1996-2022 State Museum Preserve "Rostov Kremlin"
Copyright (c) 1996-2023 Russian Museums .info