Museum "A Pet's Corner by Grandfather Durov"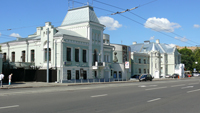 Phone: (499) 391-9294 (спр. служба)

Address: 129090, Moscow,

Working hours:* Warning:
group visits only

Internet:
www.russianmuseums.info/M1726 - official web page
Museum "A Pet's Corner by Grandfather Durov" - W1489, official web site www.ugolokdurova.ru/museum



E-Mail: ;




billboard, events and excursions




Description:


The Durov's Museum acquaints with life and creation of the eminent man as well as artist, trainer, clown, writer, sculptor and scientist. A row of scarecrows of his unique "artists" as the Dog, the Pig, the Bear, the Sea-Lion and others. There are carefully kept in the Museum halls. Durov's own fancy-dresses, drawing, rare photographs and original furniture tere are demonstrating also in the Museum. Our guides talk to visitors about different interesting stories from Durov's life, they descry his political satires, show attraction models. At the and of each excurtion it is giving a demonstration of the famous Mouse Railway.



Next to the museum there are:
restaurant(s) or caffes




for museum professionals


Administrative phone:
(495) 681-9812



Organisation status:
State Russia

Organization form:
non-for-profit

Organisation type:
culture for society

Classification:
Memorial,Theartal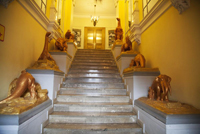 Squares:
permament show rooms 274,7м2
museum's store 58,2м2

Employee number:
8 (curators: 1)

Average visitors per year:
15990


Specific departments:
archive

Collections volume:
около 14000, rare collection's items: 12820



Web sites and CD-disks:
above

Copyright (c) 1996-2017 Museum "A Pet's Corner by Grandfather Durov"
Copyright (c) 1996-2021 Russian Museums .info