Memorial museum "Raznochinny Petersburg"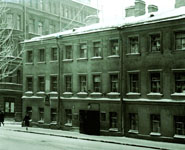 Phone: (812) 407-52-20, 572-19-32

Address: 191180, Saint-Petersburg, Kazachy per., 7

Working hours:*

Internet:
www.russianmuseums.info/M175 - official web page
Memorial museum "Raznochinny Petersburg" - W1751, official web site spbmmrp.ru



E-Mail: ,




billboard, events and excursions




Description:


The Museum is situated in historically rich part of Saint-Petersburg on Bolshoy Kazachy lane in the block formed by Fontanca River, Gorohovaya St. and Zagorodny Prospect. This place used to call "Semenovsky Polk Sloboda", because Semenovsky Life-Guards regiment had headquarters here from the middle of XVIII to the beginning of XX century. This place was a part of "Moscow district" before revolution, now - the part of Admiralty district. The area o is connected with life and activity of many representatives of liberal and democratic movement in Russian society all throw XIX century. Most of them were so called "raznochintsy" - people from different social strata's of hierarchical society who got education and earn their livings by some sort of intellectual job.

The exhibition "Around Semenovsky Platz" shows the history of this place and reflects different aspects of city life at 1990-1910-th. The Memorial V.I. Uljanov's (Lenin) Apartment, where he lived in 1894-1895 as a modest loyal assistant, typical lodging of the end of XIX centure, always attracts public to the Museum



Next to the museum there are:
hotels and restaurants




for museum professionals


Administrative phone:
(812) 572-19-32, Fax: (812) 572-19-32

Administrative address:
191180, St. Petersburg, Bolshoy Kazachiy per., D. 7, 3rd Floor

Foundation and opening day:
founded: 06.10.1938

Organisation status:
State Russia

Organization form:
non-for-profit

Organisation type:
culture for society

Classification:
Historical,Memorial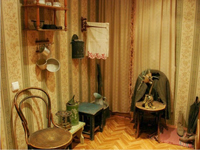 Squares:
permament show rooms 106,7м2
temporary exhibitions 35,7м2
museum's store 100м2

Employee number:
29 (curators: 15)

Average visitors per year:
более 40000


Collections volume:
42729, rare collection's items: 33801



Web sites and CD-disks:
above

Copyright (c) 1996-2022 Memorial museum "Raznochinny Petersburg"
Copyright (c) 1996-2022 Russian Museums .info