Memorial in memory of L.N. Tolstoy "Astapovo"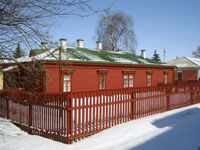 Phone: (47464) 21-737

Address: 399870, Lipetsk region,

Working hours:*

Internet:
www.russianmuseums.info/M1791 - official web page
The L.N.Tolstoy State Museum - W1206, official web site tolstoymuseum.ru



E-Mail:




billboard, events and excursions




Description:


"Leo Tolstoy memorial "Astapovo" is a memorial complex of buildings and territories reconstructed in a historical appearance. The centre of the memorial is Leo Tolstoy museum, located in the house of a former stationmaster of Astapovo station I.I. Ozolin, where Tolstoy spent the last 7 days of his life (he died on the 7th November in 1910). By the 100 anniversary of L.N. Tolstoy,s death a new exposition was opened. It, s name is "Astapovo meridian On the threshold of eternity". " Leo Tolstoy Cultural-educational centre" opened on the 20 th of November in 2010 is also a part of the complex



Museum's services:
lecture hall

Next to the museum there are:
restaurant(s) or caffes




for museum professionals


Administrative phone:
(47464) 21-737

Administrative address:
Prechistenka str., 11/8, Moscow, 119034

Foundation and opening day:
founded: 1910ã.
opened: 01.12.1946

Organisation status:
Federal

Organization form:
non-for-profit

Organisation type:
culture for society

Classification:
Literature,Memorial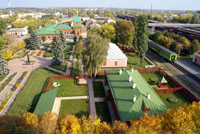 Squares:
permament show rooms 182ì2
temporary exhibitions 120ì2
museum's store 50ì2
museum's parks 0,8ãà

Employee number:
15 (curators: 5)

Average visitors per year:
4600




Web sites and CD-disks:
above

Copyright (c) 1996-2019 Memorial in memory of L.N. Tolstoy "Astapovo"
Copyright (c) 1996-2020 Russian Museums .info