State memorial architectural complex "Museum-estate of P.I.Tchaikovsky"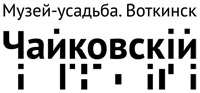 Phone: (34145) 51-757, 8 (963) 028-27-11 (экс. бюро)

Address: 427431, Udmurt Republic,

Working hours:*

Internet:
www.russianmuseums.info/M1819 - official web page
State memorial architectural complex "Museum-estate of P.I.Tchaikovsky" - W1447, official web site tchaikovskyhome.ru/



E-Mail:




billboard, events and excursions




Description:


The State memorial architectural complex "Museum-estate of P.I. Tchaikovsky" is a unique historical and cultural monument of universal importance. Tchaikovsky admirers from every corner of the world come here to plunge into the atmosphere of genius childhood, to hear the sound of his piano "Wirth" and old-time orchestrion, to see the relics that belonged to the Tchaikovskys.

30 April, 1940, on the occasion of centenary of the composer's birth, an old mansion on the bank of the pond was named the house of the Tchaikovskys again. And it warmly opened its doors for the first visitors as in the old days when the hospitable hosts lived here. The house was twice restored. During the restoration work it got the original look of the 30-40-ies of the XIX century, the interiors of the memorial house were restored. On the 150th anniversary of Pyotr Tchaikovsky the appearance of the initial state-owned estate was completely restored. The household buildings were raised: a coach-house, stables, an ice cellar, nice summer-houses and a green-house surrounded by the orchard (there are 16 exposition objects in the territory of more than 2 hectares). In 1990 a remarkable monument to P.I. Tchaikovsky was built in front of the museum.

From the time of its foundation our museum gained much more value than just a historical monument, in fact it is double-natured. On the one hand, it is really a memorial complex. Holdings of the museum-estate of P.I. Tchaikovsky keep priceless collection of materials and artifacts. On the other hand, the museum is a place where guests are always welcome, where they can visit a variety of exhibitions, unique theatrical excursions and concerts



Museum's services:
museum shop

Next to the museum there are:
hotel(s)




for museum professionals


Administrative phone:
(34145) 51-757, Fax: (34145) 51-757



Foundation and opening day:
founded: 01.10.1938
opened: 30.04.1940

Organisation status:
State Russia

Organization form:
non-for-profit

Organisation type:
culture for society, scientific

Classification:
Architect and monuments,Historical,Musical,Memorial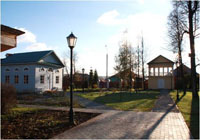 Squares:
permament show rooms 1280м2
temporary exhibitions 99м2
museum's store 192м2
museum's parks 2,03га

Employee number:
82 (curators: 4)

Average visitors per year:
137830


Specific departments:
archive, science library

Collections volume:
21710, rare collection's items: 18563



Web sites and CD-disks:
above

Copyright (c) 1996-2022 State memorial architectural complex "Museum-estate of P.I.Tchaikovsky"
Copyright (c) 1996-2023 Russian Museums .info