Laughter museum "Trickster"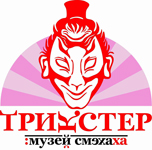 Phone: +7 (921) 868-77-27

Address: 191014, Saint-Petersburg,

Working hours:*

Internet:
www.russianmuseums.info/M201 - official web page
Laughter museum "Trickster" - W1709, official web site www.gidspb.com/



E-Mail:




billboard, events and excursions




Description:


The Laughter museum "Trickster" is the place where uncommon events happen. Extraordinary exhibitions attract both adults and children attention. Nowhere else except here visitors acquaint their selves with creatively different novel methods of presentation and excursion, get knowledge about the Russian world of laughter. Currently the Museum has at its disposal three collections: The riddles of everyday items, The wisdom of fool and The resources of soviet childhood



Museum's services:
lecture hall, playground

Next to the museum there are:
hotels and restaurants




for museum professionals


Administrative phone:
+7 (921) 868-77-27



Foundation and opening day:
opened: 25.05.2012

Organisation status:
Private

Organization form:
non-for-profit

Organisation type:
culture for society

Classification:
Historical



Squares:
permament show rooms 20ì2

Employee number:
1

Average visitors per year:
2400


Specific departments:
science library

Collections volume:
3000



Web sites and CD-disks:
above

Copyright (c) 1996-2020 Laughter museum "Trickster"
Copyright (c) 1996-2023 Russian Museums .info