Ostafyevo State Museum "The Russian Parnassus"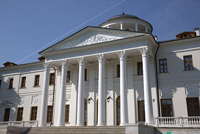 Phone: (495) 867-83-60, 817-30-00, доб.6-4218

Address: 142131, Moscow,

Working hours:*

Internet:
www.russianmuseums.info/M2085 - official web page
Ostafyevo State Museum "The Russian Parnassus" - W1501, official web site ostafyevomuseum.ru/



E-Mail:




billboard, events and excursions




Description:


The Museum is disposed on the territory of the formerly noble Ostafyevo country estate. For more than 100 years Ostafyevo belonged to the same family - four generations of the Vyazemsky princes. From 1898 Ostafyevo belonged to Sheremetev family. The great Russian historian Nikolai Karamzin spent twelve years at Ostafyevo working on his famous "History of the Russian State". Throughout the nineteenth century Ostafyevo was closely linked with such illustrious names like Alexander Pushkin, Vasily Zhukovsky, Adam Mitskevich, Alexander Griboedov and many others



Museum's services:
museum shop, lecture hall, museum's caffe

Next to the museum there are:
restaurant(s) or caffes




for museum professionals


Administrative phone:
(495) 817-30-00, доб.6-4218, Fax: (495) 867-83-60



Organisation status:
Federal

Organization form:
non-for-profit

Organisation type:
culture for society

Classification:
Architect and monuments,Historical,Literature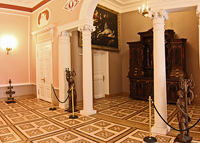 Squares:
permament show rooms 1266,5м2
temporary exhibitions 434,1м2
museum's store 425,6м2
museum's parks 21,91га

Employee number:
107 (curators: 22)

Average visitors per year:
100000


Specific departments:
archive, science library

Collections volume:
15800, rare collection's items: 6500



Web sites and CD-disks:
above

Copyright (c) 1996-2019 Ostafyevo State Museum "The Russian Parnassus"
Copyright (c) 1996-2022 Russian Museums .info