Museum "Chuvash school of Simbirsk. The flat of I.Y. Yakovlev"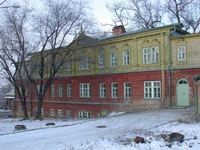 Phone: ñïð. (8422) 32-85-21, ýêñ.áþðî (8422) 32-45-32

Address: 432011, Ylyanovsk region,

Working hours:* Warning:
preodered visits only

Internet:
www.russianmuseums.info/M2188 - official web page
The State historical memorial complex "Lenin`s hometown" - W1182, official web site www.ulzapovednik.ru



E-Mail:




billboard, events and excursions




Description:


Chuvash teachers school of Simbirsk created by I.Y. Yakovlev in 1868 become huge cultural centre united men teacher school and women teachers' training courses, men and women primary schools. Here used to study people of different nationalities of Russia such as Chuvashs, Mordvins, Maris, Tatars. Teaching staff also was multiethnic. There were six houses on the territory of school mansion: lower building, wooden outbuilding, church, school workshops, upper housing, and housing of men two years parish school. All housings are preserved until our days. There is Ulyanovsk School situated in four housings, there is a temple in the name of the descent of the Holy Spirit on the Apostles in the former church and there is the museum Chuvash school of Simbirsk in the upper housing



Museum's services:
museum shop, lecture hall, public library

Next to the museum there are:
hotels and restaurants




for museum professionals


Administrative phone:
(8422) 32-63-62, Fax: (8422) 32-63-62



Foundation and opening day:
founded: 28.10.1868
opened: 16.11.1991

Organisation status:
Federal

Organization form:
non-for-profit

Organisation type:
culture for society, scientific

Classification:
Historical,Regional museum,Museum preserve,Memorial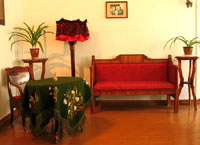 Squares:
permament show rooms 245,3ì2
museum's parks 22,3ãà

Employee number:
8 (curators: 3)

Average visitors per year:
10470


Specific departments:
archive, science library

Collections volume:
828, rare collection's items: 727



Web sites and CD-disks:
above

Copyright (c) 1996-2015 Museum "Chuvash school of Simbirsk. The flat of I.Y. Yakovlev"
Copyright (c) 1996-2019 Russian Museums .info