State memorial and natural museum-reserve "Schelykovo"

Phone: (49438) 23-245

Address: 157925, Kostroma region,

Working hours:*

Internet:
www.russianmuseums.info/M2331 - official web page
- W1684, official web site museumschelykovo.ru/



E-Mail:




billboard, events and excursions




Description:


Schelykovo is connected with the life and creation work of the great Russian playwright Alexander Ostrovsky. The State museum-reserve "Schelykovo" includes a whole complex of monuments and unique landscapes. The main object of the museum-reserve is Ostrovsky's house. It is a wooden country house built in the early 19th century. The museum conveys the impression of the inhabited house. The house contains many playwright's and his family's personal belongings. The country park with its pavilions, bridges, benches and alleys is a nice place for a walk.

St. Nicholas Church in the village of Nikolo-Berezhki was built in 1792. The playwright passed away on June 2. 1886 and was buried in Ostrovsky's family necropolis. The ethnographic museum "Sobolev's house" is situated in the house of the peasant and joiner Ivan Sobolev. The Museum of Literature and Theatre offers expositions and exhibitions based on the museum collections. They represent the destiny of Ostrovsky's plays at the theatre. The Blue House was designed and built by the playwright's daughter Maria Ostrovskaya-Shatelen in 1903. Today it houses the cultural and educational centre. In winter "The Residence of Snow-Maiden" is situated here



Museum's services:
museum shop, lecture hall, public library




for museum professionals


Administrative phone:
(49438) 23-253, Fax: (49438) 23-117



Foundation and opening day:
founded: 1923г.

Organisation status:
Federal

Organization form:
non-for-profit

Organisation type:
culture for society

Classification:
Architect and monuments,Historical,Regional museum,Literature,Museum preserve,Memorial,Painting art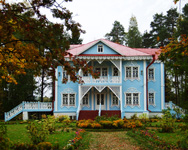 Squares:
permament show rooms 473м2
temporary exhibitions 231м2
museum's store 190м2

Employee number:
66 (curators: 4)

Average visitors per year:
46300


Specific departments:
archive, science library

Collections volume:
31669, rare collection's items: 28770



Web sites and CD-disks:
above

Copyright (c) 1996-2019 State memorial and natural museum-reserve "Schelykovo"
Copyright (c) 1996-2023 Russian Museums .info