Moscow State Exhibition Hall "New Manege"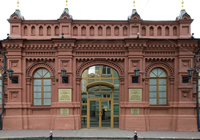 Phone: (499) 394-26-37, (495) 645–92–77 - справ. служба

Address: 125009, Moscow,

Working hours:*

Internet:
www.russianmuseums.info/M2338 - official web page
- W1771, official web site moscowmanege.ru/



E-Mail:




billboard, events and excursions




Description:


The building of New Manege was built in 1888 in the very centre of Moscow. It used to be the 1st municipal power station. Then, it was not in use for a long time.

Now New Manege is a modern equipped exhibition hall where different expositions take place



Museum's services:
equipped for people with disabilities

Next to the museum there are:
restaurant(s) or caffes




for museum professionals


Administrative phone:
(495) 692-4459, Fax: (495) 692-2393



Organisation status:
State Russia

Organization form:
non-for-profit

Organisation type:
culture for society

Classification:
Historical,Painting art

Squares:
permament show rooms 1200м2



Web sites and CD-disks:
above

Copyright (c) 1996-2019 Moscow State Exhibition Hall "New Manege"
Copyright (c) 1996-2023 Russian Museums .info