Art gallery "Na Kashirke"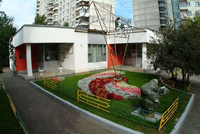 Phone: (499) 612-1161

Address: 115446, Moscow, Ak.Millionschikova Street, 35/2

Location: "Kashirskaya" metro station

Working hours:*

Internet:
www.russianmuseums.info/M2341 - official web page
- W1923, official web site vzmoscow.ru/

Аrt gallery "Na Kashirke" - W1356
www.nakashirke.com/



E-Mail: ,




billboard, events and excursions




Description:


The state art gallery "Na Kashirke" is the largest art gallery in the South district of Moscow. The gallery was founded in 1986.

It collaborates with artists belonging to different creative trends, organizes festivals, concerts, meetings with artists, presentations of books and magazines, demonstrates films. There are art studios and other creative ativities in the gallery



Next to the museum there are:
hotels and restaurants




for museum professionals


Administrative phone:
(499) 612-1161, Fax: (499) 612-1161



Foundation and opening day:
opened: 05.02.1986

Organisation status:
State Russia

Organization form:
non-for-profit

Organisation type:
culture for society

Classification:
Historical,Painting art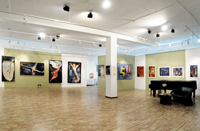 Squares:
temporary exhibitions 600м2
museum's store 40м2

Employee number:
25 (curators: 6)

Specific departments:
archive



Web sites and CD-disks:
above

Copyright (c) 1996-2018 Art gallery "Na Kashirke"
Copyright (c) 1996-2019 Russian Museums .info