The museum-cultural centre "Mansion of merchant G. Tetushinov"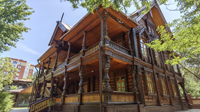 Phone: (8512) 51-61-01

Address: 414000, Astrakhan region,

Working hours:*

Internet:
www.russianmuseums.info/M2357 - official web page
The Astrakhan State Art Gallery - W833, official web site dogadinka.ru/



E-Mail:




billboard, events and excursions




Description:


The 10th of September was opening of museum-cultural centre "Mansion of merchant G. Tetushinov", which is located in a carved wooden mansion on the street Communist, 26 / Raskolnikov, 9. It is the unique example of wooden architecture of the XIX century, preserved in the Lower Volga region. Every visitor of this Centre can touch Astrakhan history of XIX century and discover a lot of interesting things about the merchant's life. There is a unique possibility in this Centre: you can touch objects, sit on chairs, use the old stationery to make note in the Brownie Book. Excursion in museum is an unusual form of interactive act. Owners of the house - merchant Tetushinov and his family (wife and daughter) tell about their life and always glad to see guests in their house.

Grigory Tetyushinov (c. 1830-1894) - Astrakhan merchant and industrialist, a hereditary honorary citizen of the city. Tetyushinov was a famous figure in Astrakhan. Whole his life Tetyushinov linked with the Volga, the Caspian Sea and the ships. His private shipyard "Tetyushinov & Co.", which built the screw ships, schooners, large transports had a great success. Schooners "Kalmyk ", "Tatarin", "Lezgin", which were built at the Tetyushinov's shipyard were well known



Museum's services:
museum shop

Next to the museum there are:
restaurant(s) or caffes




for museum professionals


Administrative phone:
(8512) 51-11-21, Fax: (8512) 51-11-21



Foundation and opening day:
opened: 10.09.2010

Organisation status:
State Russia

Organization form:
non-for-profit

Organisation type:
culture for society, scientific

Classification:
Historical,Painting art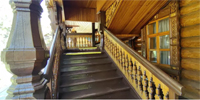 Squares:
permament show rooms 493,3м2
temporary exhibitions 172,1м2
museum's parks 0,1га

Employee number:
13 (curators: 6)

Average visitors per year:
2550




Web sites and CD-disks:
above

Copyright (c) 1996-2022 The museum-cultural centre "Mansion of merchant G. Tetushinov"
Copyright (c) 1996-2023 Russian Museums .info