Museum of Regional Studies of the secondary school of the village of Shevchenko



Address: 646088, Omsk region,

Working hours:* Warning:
preodered visits only

Internet:
www.russianmuseums.info/M2407 - official web page

E-Mail:




billboard, events and excursions

Description:
The Museum was founded on the 25 of January, 1980. It's located in the building of the secondary school which has the 100 years history. The school is situated in one of the oldest villages of the district. The history of the village is closely connected with the construction of the Transsiberian railway (opened in 1896). The Hero of the Soviet Union Vasily Nikolaevich Lyovushkin and the full Holder of the Order of the Glory Fyodor Nikitovich Nedelko were born and lived in Shevchenko/ The Museum has the numismatic department where are represented the coins and banknotes of Russia and of 23 foreign countries.
for museum professionals


Administrative phone:
(274) 9-37-18



Foundation and opening day:
opened: 25.01.1980

Organisation status:
Society org.

Organization form:
non-for-profit

Organisation type:
culture for society

Classification:
Historical,Regional museum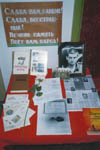 Squares:
permament show rooms 84ì2
temporary exhibitions 16ì2
museum's store 12ì2

Employee number:
1

Average visitors per year:
174


Collections volume:
952, rare collection's items: 914



Web sites and CD-disks:
above

Copyright (c) 1996-2012 Museum of Regional Studies of the secondary school of the village of Shevchenko
Copyright (c) 1996-2023 Russian Museums .info