Museum of Regional Studies Pavlogradka



Address: 646760, Omsk region,

Working hours:* Warning:
preodered visits only

Internet:
www.russianmuseums.info/M2420 - official web page

E-Mail:




billboard, events and excursions

Description:
The Pavlogradsky museum of regional studies nas in augurated on the 7th of July 2000. It was founded on the base of Tikhvinsky school museum. It's fund nas been collected fer 40 years. The history of Pavlogradsky district is the history of people's migration from the Ukrain to Siberia at the end of the 19th century and at the beginning of the 20th century. The most attractive and valuable things for the visitors are a mortar, ryadno (aking ofa covertet), a weaving-loom, icons. They are than 100 yearsold. Nature departament is the most favorite place for children. Daily round things implements of production, documents attract visitor's attention, make them thinking of the past and future of their Motherland. The museum's fund is enriched constantly, with the things recieved as gifts. It helps to renovate and to enrich the expositions, to organize difterent exhibitions.
for museum professionals


Administrative phone:
(272) 3-1440



Foundation and opening day:
founded: 22.06.1998
opened: 07.07.2000

Organisation status:
Municipal

Organization form:
non-for-profit

Organisation type:
culture for society, scientific

Classification:
Regional museum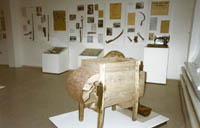 Squares:
permament show rooms 258м2
temporary exhibitions 72м2
museum's store 90м2

Employee number:
7 (curators: 2)

Average visitors per year:
7392


Collections volume:
1618, rare collection's items: 784



Web sites and CD-disks:
above

Copyright (c) 1996-2003 Museum of Regional Studies Pavlogradka
Copyright (c) 1996-2023 Russian Museums .info