The Museum "Stationmaster's house"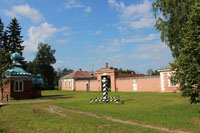 Phone: +7 (931) 287 54 66

Address: 188356, Leningrad region, Gatchina region, Vyra village,Bolshoy avenue, 32A

Working hours:*

Internet:
www.russianmuseums.info/M249 - official web page
- W983 lenoblmus.ru/



E-Mail:




billboard, events and excursions




Description:


The stationmaster's house the first museum of a hero of literature in our country. According to archive documents and the story The Stationmaster, the atmosphere of postal-road way of life of the XIX century is reconstructed here. At the time of Pushkin the Belorussky post road passed here. Vyra was the third station from the capital, where the wayfarers were resting and changed horses. The environment recreated in the museum is typical for the, post stations of the time of Pushkin. The all things is authentic. On the table of stationmaster s the book for registration of post-horse orders. There is also a post-horse order of A.S. Pushkin from 5 May 1820 year. The second half of the Northern building is a coachmen's room. Here are the Russian stove. On the walls - the horses' harness, as well as coachmen' clothing. The other building included exposition "Russian post office of II half of the XIX century"



Museum's services:
museum shop

Next to the museum there are:
restaurant(s) or caffes




for museum professionals


Administrative phone:
+7 (931) 287 54 66



Foundation and opening day:
opened: 15.10.1972

Organisation status:
State Russia

Organization form:
non-for-profit

Organisation type:
culture for society

Classification:
Historical,Literature,Science and technics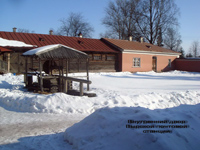 Squares:
permament show rooms 405м2
temporary exhibitions 45м2
museum's store 70м2

Employee number:
23 (curators: 2)

Average visitors per year:
53000


Specific departments:
science library

Collections volume:
4695, rare collection's items: 3235



Web sites and CD-disks:
above

Copyright (c) 1996-2023 The Museum "Stationmaster's house"
Copyright (c) 1996-2023 Russian Museums .info