Literary and Artistic Estate-Museum "Priyutino"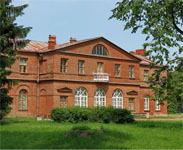 Phone: (81370) 29-500

Address: 188641, Leningrad region,

Working hours:*

Internet:
www.russianmuseums.info/M251 - official web page
- W983 lenoblmus.ru/



E-Mail: ,




billboard, events and excursions

Description:
Priyutino is one of the not numerous country estates of Russian nobility of Pushkin's epoch that was preserved to this day. The owner of the estate Alexey Olenin was an eminent statesman, president of Academy of Art's, director of Imperial Public Library, historian, archaeologist, artist, famous maesenas. During 40 years prominent Russian writers, artists, musicians, actors who visited Priyutino. It is associated with names of Alexandr Pushkin, I.Krylov, O.Kiprensky, C.Brullov, M.Glinka and many others. Pushkin was in love with Anna, Olenin's daughter and dedicated her many of his poems. The interiors of manor house of the Priyutino are restored and the expositions of the Museum tells us about the history of the estate, about its habitants and guests.
for museum professionals


Administrative phone:
(81370) 29-500, Fax: (81370) 29-500



Foundation and opening day:
opened: 1974г.

Organisation status:
State Russia

Organization form:
non-for-profit

Organisation type:
culture for society

Classification:
Architect and monuments,Historical,Literature,Painting art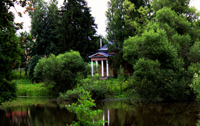 Squares:
permament show rooms 400м2
temporary exhibitions 50м2
museum's store 400м2
museum's parks 11га

Employee number:
20 (curators: 6)

Average visitors per year:
16000


Collections volume:
12044, rare collection's items: 10815



Web sites and CD-disks:
above

Copyright (c) 1996-2021 Literary and Artistic Estate-Museum "Priyutino"
Copyright (c) 1996-2023 Russian Museums .info