Cultural-exhibition centre "Vernissage"

Phone: (3846) 62-13-59, 62-14-02

Address: 653033, Kemerovo region,

Working hours:*

Internet:
www.russianmuseums.info/M2563 - official web page
Cultural-exhibition centre "Vernissage" - W1977, official web site www.kvc-vernisage.ru/



E-Mail:




billboard, events and excursions




Description:


The initiative to create a cultural and exhibition center that meets all the requirements of modern exhibiting, supported by the city in 2005 and after almost four years, the doors ECC "opening day" was inaugurated. Original design solutions for roof and fa?ade of the building was proposed by famous artist Vladimir Morozov. As a kind of calling card of the Cultural-exhibition centre was a bronze sculpture of the Nymph, embodying the image of an eternal Muse inspiring wonderful for which was created Prokop "Vernissage" - the center of cultural life of the city.

The permanent exhibition hall "Vernissage" - works from the bark of the famous Folk band "Prokop elm", which today claims to be a modern cultural heritage and history of the region. Exposure complement the birch bark dolls by Svetlana Petrini - living images of the past and present are solved in a witty and good sense of interpretation of the master.

The academic staff of the Vernissage of the developed program of cognitive and practical training in traditional folk art "Mother-patroness", as well as folk greeting and entertaining program for newlyweds "Unbreakable Alliance". Innovative form of work for opening day was the opening of the virtual branch of Russian Museum (large-scale international project that embodies the idea of the availability of the world's largest collection of Russian art)



Museum's services:
lecture hall, equipped for people with disabilities

Museum has :
folk group

Next to the museum there are:
hotels and restaurants




for museum professionals


Administrative phone:
(3846) 62-13-41



Foundation and opening day:
opened: 28.11.2008

Organisation status:
Municipal

Organization form:
non-for-profit

Organisation type:
culture for society

Classification:
Historical,Painting art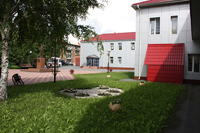 Squares:
permament show rooms 98,4м2
temporary exhibitions 404,6м2
museum's store 14,7м2
museum's parks 1,1га

Employee number:
33 (curators: 3)

Average visitors per year:
21000


Specific departments:
archive, science library

Collections volume:
518, rare collection's items: 174



Web sites and CD-disks:
above

Copyright (c) 1996-2023 Cultural-exhibition centre "Vernissage"
Copyright (c) 1996-2023 Russian Museums .info