Museum-fortress "Korela"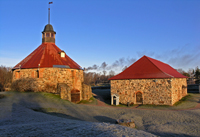 Phone: (81379) 37-275

Address: 188760, Leningrad region,

Working hours:*

Internet:
www.russianmuseums.info/M261 - official web page
- W983 lenoblmus.ru/



E-Mail:




billboard, events and excursions




Description:


Fortress Korela is the north-west forpost of Leningradin region. Was built by novgorodian in 1310 for protecting russian borders on Karelian isthmus and the way lo Lagogan-lake. Sweden rebuilding was in the end of 16th and 17th century. In the middle of 20th century in fortress the museum was opened in New arsenal. Exposition of museum talk about rich history of Priozersk-town. Also museum has big collection of rare things and documents



Museum's services:
museum shop

Next to the museum there are:
hotels and restaurants




for museum professionals


Administrative phone:
(81379) 37-275



Foundation and opening day:
opened: 17.06.1962

Organisation status:
State Russia

Organization form:
non-for-profit

Organisation type:
culture for society, scientific

Classification:
Architect and monuments,Historical,Regional museum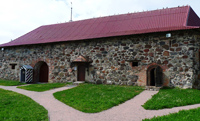 Squares:
permament show rooms 123,9м2
temporary exhibitions 73,3м2
museum's store 41,6м2

Employee number:
20 (curators: 4)

Average visitors per year:
более 50000


Specific departments:
archive

Collections volume:
19964, rare collection's items: 15052



Web sites and CD-disks:
above

Copyright (c) 1996-2021 Museum-fortress "Korela"
Copyright (c) 1996-2023 Russian Museums .info