Ilya Repin's Memorial Home "Penates"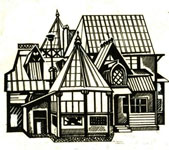 Phone: (999) 034-45-53

Address: 197738, Saint-Petersburg, Repino, Primorskoe road, 411

Working hours:*

Internet:
www.russianmuseums.info/M267 - official web page
Museum of Art Academy - W1259, official web site artsacademymuseum.org/



E-Mail:




billboard, events and excursions




Description:


The I.E. Repin's Memorial Estate "Penaty" is a world-famous monument of Russian culture of the end of the 19th - early 20th centuries. This is the only memorial art museum in the Karelian Isthmus. The main activities of the Repin's Memorial Estate "Penaty" are scientific and educational. Visitors to the museum learn about life and creative work of the outstanding Russian painter I.E. Repin who had lived in the "Penaty" Estate for the last 30 years of his life. Care is taken of preserving historic appearance of rooms - 2 studios, a dining room, Repin's study and verandahs among them, - which speak of the owner's tastes and habits. Over 100 artworks by Repin, his students and friends are on display in the museum. The tour is accompanied by audiotaped explanations in major European and Oriental languages. Besides, "Penaty" is the I.E. Repin's life and creative work research center. The museum holds the "Repin's Readings" Conference regularly and publishes the proceedings. The painter's summer studio hosts exhibitions (including international ones) of paintings and graphic works devoted to quite a variety of topics



Museum's services:
museum shop, lecture hall

Next to the museum there are:
hotels and restaurants




for museum professionals


Administrative phone:
(999) 034-45-53



Foundation and opening day:
founded: 16.06.1940
opened: 18.06.1940

Organisation status:
Federal

Organization form:
non-for-profit

Organisation type:
culture for society, scientific

Classification:
Historical,Memorial,Painting art



Squares:
permament show rooms 551,2м2
temporary exhibitions 60м2
museum's store 7,3м2
museum's parks 3,8га

Employee number:
25 (curators: 3)

Average visitors per year:
24 180


Specific departments:
archive, science library

Collections volume:
2530, rare collection's items: 1888



Web sites and CD-disks:
above

Copyright (c) 1996-2021 Ilya Repin's Memorial Home "Penates"
Copyright (c) 1996-2022 Russian Museums .info