Museum "The Ancient burial mounds of Salbyk steppe"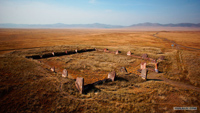 Phone: 8 390 322 0255

Address: 655100, Khakasia Republic,

Working hours:*

Internet:
www.russianmuseums.info/M2709 - official web page
Museum "The Ancient burial mounds of Salbyk steppe" - W2223, official web site salbyk.rh.muzkult.ru/



E-Mail:




billboard, events and excursions




Description:


The Great Salbyk kurgan is one of the vast monuments created by the civilization. This is earth-and-rock pyramid - the burial place of mighty Dingling tsars and their families. There are 6 huge tsars' piramids in the middle of the Salbyk basin; people call the Salbyk steppe - the Tsars'valley. According to the legends this place was "the road of spirits", this road led the souls of died people to the sunrise, to the upper world across the hills. But there was one more way - to the low world at dawn. The Great Salbyk kurgan was created in the forth millennium BC. It is considered that this burial mound was 30 meter high truncated turfed pyramid. Later it sank and turned into the sagged hill. When the Salbyk kurgan was excavated in 1956 it was much lower, but still it had the height of a four-storeyed building



Museum's services:
equipped for people with disabilities




for museum professionals


Administrative phone:
8 390 322 0255



Foundation and opening day:
founded: 26.04.2007

Organisation status:
Municipal

Organization form:
non-for-profit

Organisation type:
culture for society

Classification:
Historical,Regional museum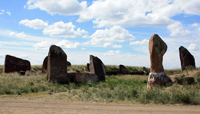 Squares:
permament show rooms 43,5м2
museum's parks 31га

Employee number:
2

Average visitors per year:
20240


Collections volume:
30, rare collection's items: 27



Web sites and CD-disks:
above

Copyright (c) 1996-2022 Museum "The Ancient burial mounds of Salbyk steppe"
Copyright (c) 1996-2023 Russian Museums .info