Museum "The City Smithy" RSBIC "The Smolensk State Museum-Preserve"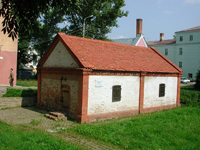 Phone: (4812) 38-38-62

Address: 214000, Smolensk region, Smolensk City, Lenin Street, 10a

Working hours:*

Internet:
www.russianmuseums.info/M2786 - official web page
The Smolensk State Museum-Preserve - W1508, official web site www.smolensk-museum.ru/



E-Mail:




billboard, events and excursions




Description:


The museum tells about the smiths' handicraft - the oldest handicraft connected with the treatment of metal. In the first hall one can see the original worker's tools and various hand-made of the smiths' handicraft of the 17th - 19th centuries. Among them there are locks and keys of different types and size, cold steel, ironware, samples of fine metal-work, torches, and candlesticks.

When walking under the Smolensk smiths' guild banner the visitors enter the creative laboratory of the smith. They can see a reconstructed furnace and genuine bellows for the last time being used in the early 20th century. An anvil is also genuine, as well as the smiths' tools. The electric light is deliberately reduced to make illusion of the ordinary working environment.

The "Real Smith" (a guide dressed in a costume of a craftsman) is to tell you about the nice points of the smith's handicraft





Museum's building(s):


It's the only civil building of the late 17th - early 18th centuries (the period of the Russian Tsar Peter the 1st reign) preserved for the present in Smolensk. For the first time there was the so-called "Old Polish Archives" in the building, but at the beginning of the 18th century it was adopted as the smithy of the so-called "Engineering House" whichhad existed approx. till 1812.

Inside of the building there are two square chambers with high lancet vaults. In one of them some tracks of the old furnace of the 18th century could be noticed before the restoration in the late 1980th



Next to the museum there are:
hotels and restaurants




for museum professionals


Administrative phone:
(4812) 38-38-62

Administrative address:
214000, Smolensk City, Communisticheskaya Road, 4

Foundation and opening day:
opened: 1991ã.

Organisation status:
State Russia

Organization form:
non-for-profit

Organisation type:
culture for society

Classification:
Historical

Squares:
permament show rooms 37,5ì2
museum's parks 0,1ãà

Average visitors per year:
530




Rare collections (unique items):
The genuine hand-made of the Russian smiths of the 17th -18th centuries - 82 things





Web sites and CD-disks:
above

Copyright (c) 1996-2020 Museum "The City Smithy" RSBIC "The Smolensk State Museum-Preserve"
Copyright (c) 1996-2023 Russian Museums .info