Art Museum "Liberov Ñenter"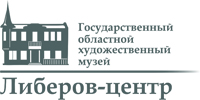 Phone: (3812) 31-84-01, 30-16-45 (ýêñ.)

Address: 644042, Omsk region,

Working hours:*

Internet:
www.russianmuseums.info/M2908 - official web page
Liberov Ñenter - W2012, official web site liberov.ru/



E-Mail:




billboard, events and excursions




Description:


"Liberov Center" was established on June 14, 1994 by Decree No. 281 of the Head of Administration of the Omsk Region, LK. Polezhayev as a monographic museum of the creative heritage of Alexei Nikolayevich Liberov (1911-2001), People's Artist of the RSFSR, Corresponding Member of the Russian Academy of Arts, laureate of the State Prize. I.E. Repin, professor, Honorary Citizen of the city of Omsk, public figure, founder of the art and graphic faculty at the Omsk State Pedagogical Institute. The museum opened its first exhibition on December 8, 1994. At the same time, an art studio for creatively gifted children began to operate in the museum, the UNESCO Associated School, which annually trains over 300 children



Museum's services:
lecture hall, museum's caffe, equipped for people with disabilities

Next to the museum there are:
hotels and restaurants




for museum professionals


Administrative phone:
(3812) 37-65-64, Fax: (3812) 31-84-01



Foundation and opening day:
founded: 14.06.1994

Organisation status:
State Russia

Organization form:
non-for-profit

Organisation type:
culture for society, scientific

Classification:
Historical,Memorial,Painting art

Squares:
permament show rooms 177,4ì2
museum's store 54,8ì2

Employee number:
42 (curators: 18)

Average visitors per year:
70520


Specific departments:
archive

Collections volume:
3877, rare collection's items: 3429



Web sites and CD-disks:
above

Copyright (c) 1996-2021 Art Museum "Liberov Ñenter"
Copyright (c) 1996-2023 Russian Museums .info