The museum "Friedlander Gate"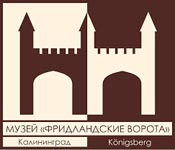 Phone: (4012) 644-020

Address: 236004, Kaliningrad region,

Working hours:*

Internet:
www.russianmuseums.info/M3055 - official web page
Friedlander Tor Museum - W1233, official web site fvmuseum.ru/



E-Mail:




billboard, events and excursions




Description:


Museum is located in the monument of culture of regional value - city gate "Friedlander" - part of defensive walls of Koenigsber of half of XIX century. Date of construction of Friedlander gate - 1862.

Museum exposition is the history of Koenigsberg from the end of XIX till the 1st half of XX centuries



Next to the museum there are:
restaurant(s) or caffes




for museum professionals


Administrative phone:
(4012) 311-552, Fax: (4012) 631-520



Foundation and opening day:
founded: 22.10.2002

Organisation status:
Municipal

Organization form:
non-for-profit

Organisation type:
culture for society

Classification:
Historical,Regional museum



Squares:
permament show rooms 287м2
temporary exhibitions 131,4м2
museum's store 20м2
museum's parks 60га

Employee number:
21 (curators: 1)

Average visitors per year:
20 000


Specific departments:
archive, science library

Collections volume:
1393, rare collection's items: 460



Web sites and CD-disks:
above

Copyright (c) 1996-2023 The museum "Friedlander Gate"
Copyright (c) 1996-2023 Russian Museums .info