Yekaterinburg museum center of national creativity of "Gamayun"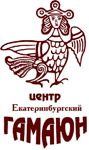 Phone: (343) 371-20-41

Address: 620075, Sverdlovsk region,

Working hours:*

Internet:
www.russianmuseums.info/M3098 - official web page
The museum of the folk art - W1361, official web site гамаюн.екатеринбург.рф



E-Mail: ,




billboard, events and excursions




Description:


The museum center "Gamayun" was created on March 25, 1994. After long repair the constant exposition of a museum - "A national picture and a toy" on June 26, 2001 was open. The small exposition was gradually supplemented with works of national masters and at present in a museum more than 1000 works of gifted artists from the people are presented. Small, but very informative and bright exposition will be interesting both to the adult, and the child. The colourful attitude peculiar to the Russian people, found the expression in an author's toy from a tree and ceramics, in works of amateur artists and lacy, scrappy works of skilled workers needlewomen. Since 2007 in a museum "Winter" and "Summer" constant expositions from the museum collections which change happens time in half a year were created. In total in museum funds 8 collections are presented: painting, graphics, ceramics, stone, art textiles, metal, tree and beads



Museum's services:
museum shop, lecture hall, public library

Next to the museum there are:
hotels and restaurants




for museum professionals


Administrative phone:
(343) 371-55-76, Fax: (343) 371-55-76



Foundation and opening day:
founded: 25.03.1994
opened: 26.06.2001

Organisation status:
Municipal

Organization form:
non-for-profit

Organisation type:
culture for society, scientific, educational

Classification:
Historical,Painting art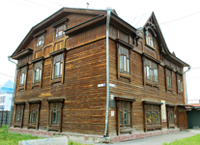 Squares:
permament show rooms 82,4м2
temporary exhibitions 45,9м2
museum's store 13,4м2

Employee number:
17 (curators: 5)

Average visitors per year:
17615


Specific departments:
science library, experts team

Collections volume:
1250, rare collection's items: 1000



Web sites and CD-disks:
above

Copyright (c) 1996-2022 Yekaterinburg museum center of national creativity of "Gamayun"
Copyright (c) 1996-2023 Russian Museums .info