Ethnic and Ecological Museum "Tyulber Town"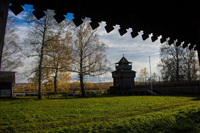 Phone: +7 905 904-97-46

Address: 650524, Kemerovo region,

Working hours:*

Internet:
www.russianmuseums.info/M3180 - official web page
The Ecological Museum "Tyulber Town" - W1569, official web site tyulber.ru/



E-Mail:




billboard, events and excursions




Description:


The Ethnic and Ecological Museum "Tyulber Town" is created in 2002 by the order of the Head of administration of the Kemerovo area from 12/10/2002 for №1735-r. An ethno-ecological museum reserve basis "Tjulbersky gorodok" is a medieval site of ancient settlement with well remained shaft, a ditch, the rests of the burnt down inhabited constructions, metallurgical workshops and a cult altar. For the first time the monument has been opened in 1910 the land surveyor from Barnaul and local peasant Nikolay Burdinym. Archeological excavations of a site of ancient settlement have been spent in 1997 - 2000 by the archeologist Shirinym J.V. To the southwest from a site of ancient settlement, on a coastal terrace of Tom' reconstructs medieval barrows, elevated and cult funeral constructions of the people of Western Siberia are recreated. In an exhibition hall "Museum of history of Pritomja", with archeological finds in show-windows and a diopama - interiors of Russian log hut and tjulberskajas yurtas is equipped. This defensive complex from towers and a fence-paling, and also the reconstructed under inhabited and economic constructions of a jail modern wooden buildings create a collective image of the Siberian Cossack jail XVII - XVIII centuries, organically entered in surrounding historical landscape



Next to the museum there are:
hotel(s)




for museum professionals


Administrative phone:
+7 905 904-97-46



Foundation and opening day:
founded: 10.12.2002
opened: 05.06.2003

Organisation status:
Municipal

Organization form:
non-for-profit

Organisation type:
culture for society, scientific, educational

Classification:
Architect and monuments,Historical,Museum preserve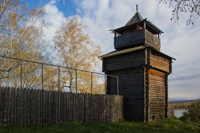 Squares:
permament show rooms 44,8м2
museum's store 43,3м2
museum's parks 5,4га

Employee number:
12 (curators: 5)

Average visitors per year:
5600


Specific departments:
science library

Collections volume:
4780, rare collection's items: 4061



Web sites and CD-disks:
above

Copyright (c) 1996-2020 Ethnic and Ecological Museum "Tyulber Town"
Copyright (c) 1996-2023 Russian Museums .info