The show-room, gallery "Vernisag"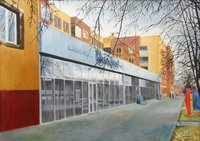 Phone: (38452) 2-37-45

Address: Kemerovo region,

Working hours:*

Internet:
www.russianmuseums.info/M3181 - official web page

E-Mail:




billboard, events and excursions




Description:


An opening "day" is organized, due to the leader OF studio Àdmakina L.D. and group of young artists which had a desire to work and propose the works. Possibility to interchange experience and to invite exhibitions from other cities appeared also. Due to fantasy and professionalism of collective various exhibitions are conducted, such as the "Flea market" (to the forgotten things - new life), A regional exhibition is a competition "Miner's character" (works of miners and about miner's labour), an exhibition is a festival of national cultures with realization of folklore performances. A regional exhibition is "Young talents", exhibition of child's creation "Inheritance of ancestors will save and will increase", annual exhibition "Artists of city - to the city", photos-exhibitions; personal, group, exhibitions of wares and pictures from birch barks, exhibition of the painting Kemerovo trays, Orthodox exhibition "Rus saint, keep a faith orthodox", exhibition of icons, tapestries, batic. "Himalayas" are an exhibition of works of N.K. Rerich. I "have a right" is an exhibition competition of child's works. Personal, group, domestic et cetera Moscow, Novosibirsk, Kemerovo, Novokuznetsk, Barnaul, Yakutsk, Thalline, Cyprus, Belovo, Prokopevsk, Leninsk-Kuznetsk et cetera.

Realization of various measures, concerts; (a tenor of the Large theater of Opera and ballet is Nikolay Semenov) an evening of classic music of "Baroque" is a harpsichord blockflute, evenings of guitar music, "Russian song" et cetera. Clubs, presentations, conferences, meeting, defile, Bodi-ART. Musical evenings: dancing evenings under ðåòðî music (for elderly people), "Pokrov a sit-round gathering", "Hat Bal"," the Christmas evenings", "Fashion and music". An opening "day" is considered the center of culture and at the place of location. The primary goal - to impart to the population feeling fine, help to the creative people in realization of the creative possibilities, exposure of the new names



Museum's services:
equipped for people with disabilities

Next to the museum there are:
restaurant(s) or caffes




for museum professionals


Administrative phone:
(38452) 2-37-45



Foundation and opening day:
founded: 1996ã.
opened: 01.12.1998

Organisation status:
Municipal

Organization form:
non-for-profit

Organisation type:
culture for society

Classification:
Historical,Painting art

Squares:
permament show rooms 200ì2
museum's store 30ì2

Employee number:
4

Average visitors per year:
19 200


Collections volume:
338, rare collection's items: 338



Web sites and CD-disks:
above

Copyright (c) 1996-2012 The show-room, gallery "Vernisag"
Copyright (c) 1996-2020 Russian Museums .info