A museum "Alarm of memory"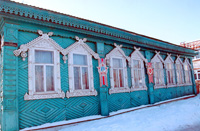 Phone: (34139) 3-18-48

Address: 427790, Udmurt Republic,

Working hours:*

Internet:
www.russianmuseums.info/M3203 - official web page

E-Mail: ,




billboard, events and excursions




Description:


A museum "Alarm of memory" began its existence in 1967 by guidance of Goroshnikova Svetlana Petrovna. The main direction is battle glory of our Mozhga country-men. Material by the history of a concentration camp "Buhenvald" were being, ñorrespondence with former prisoners was being conducted. Two rallies with their participation were conducted. As a result the museum has private things, photos, memoirs of former prisoners of "Buhenvald". The museum was collecting materials by the history of the second Moscow machine-gun secondary school, its staff was placed in a building of our museum in 1942-1945.



Next to the museum there are:
restaurant(s) or caffes




for museum professionals


Administrative phone:
(34139) 3-05-75, Fax: (34139) 3-05-77



Foundation and opening day:
founded: 06.09.1967

Organisation status:
Municipal

Organization form:
non-for-profit

Organisation type:
culture for society, scientific

Classification:
Historical

Squares:
permament show rooms 191ì2
museum's store 17,3ì2

Employee number:
8 (curators: 4)

Average visitors per year:
1475


Collections volume:
ñâûøå 9000, rare collection's items: 5180



Web sites and CD-disks:
above

Copyright (c) 1996-2012 A museum "Alarm of memory"
Copyright (c) 1996-2023 Russian Museums .info