Museum Exhibition Complex "Volokolamsky Kremlin"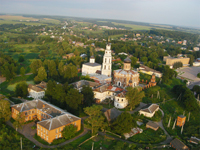 Phone: (49636) 2-33-52

Address: 143600, Moscow region,

Working hours:*

Internet:
www.russianmuseums.info/M441 - official web page
Museum Exhibition Complex "Volokolamsky Kremlin" - W1655, official web site volok-kreml.ru/



E-Mail:




billboard, events and excursions




Description:


It's a historical and spiritual centre of Volokolamsk. Big part of exposition was held about town's history. The first chronicle record about Voloc Lamsky dates from 1135. The Museum is situated in the Volokolamsk's Kremlin. Voznesensky cathedral was built in 1480-1490. This old monument was made of white stone in continuation of the traditions of Vladimiro Suzdal architecture. Nickolsky cathedral is built in a style of "Moscow baroque". The five-tiered towers formed according to the provincial classicism were built between 18th and 19th centuries. The fence around the Kremlin was built in 1890-s.



Museum's services:
public library

Next to the museum there are:
hotels and restaurants




for museum professionals


Administrative phone:
(49636) 2-31-25, Fax: (49636) 2-31-25



Foundation and opening day:
founded: 1987г.
opened: 1989г.

Organisation status:
State Russia

Organization form:
non-for-profit

Organisation type:
culture for society

Classification:
Architect and monuments,Historical,Regional museum

Squares:
permament show rooms 1942,5м2
temporary exhibitions 716,3м2
museum's store 73,7м2

Employee number:
26 (curators: 5)

Specific departments:
archive, science library

Collections volume:
7989, rare collection's items: 3785



Web sites and CD-disks:
above

Copyright (c) 1996-2020 Museum Exhibition Complex "Volokolamsky Kremlin"
Copyright (c) 1996-2023 Russian Museums .info