Museum-Reserve of A.P. Chekhov "Melikhovo"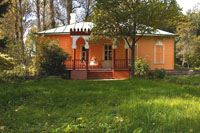 Phone: 8-905-781-29-10, (499) 941-03-13

Address: 142326, Moscow region,

Working hours:*

Internet:
www.russianmuseums.info/M447 - official web page
Literary and Memorial Museum-Reserve of A.P. Chekhov "Melikhovo" - W1355, official web site chekhov-melikhovo.com



E-Mail: ,




billboard, events and excursions




Description:


Melikhovo is one of the most remarkable memorial of the Russia culture, where a great Russian writer Anton Pavlovich lived and worked (1892-1899). The museum-reserve keeps the recollection of Chekhov-a writer, a doctor, a public figure-carefully. You will find out what Chekhov's Melikhovo was, what kind of person Chekhov was during the years of living in Melikhovo. You will visit rooms of Chekhov's house, stroll along the avenues, which remember his strides, dive into the delicate, imperceptible world of a beautiful man and a great writer.

Melikhovo attracts by a possibility to be absorbed in the inner atmosphere of Chekhov's time. Actors, producers, playwrights come here to see a wing, where "Sea-gull" was written. Concerts, theatre and music festivals, child holidays and Christmas parties are constantly held in Melikhovo



Museum's services:
museum shop, lecture hall, theatre

Museum has :
theartre

Next to the museum there are:
hotels and restaurants




for museum professionals


Administrative phone:
(496) 727-62-56, Fax: (499) 941-03-12



Foundation and opening day:
founded: 14.03.1940

Organisation status:
State Russia

Organization form:
non-for-profit

Organisation type:
culture for society, scientific

Classification:
Literature,Museum preserve,Memorial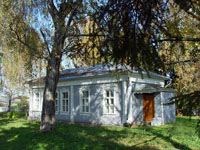 Squares:
permament show rooms 336м2
museum's store 188м2
museum's parks 6га

Employee number:
137 (curators: 12)

Average visitors per year:
171885


Specific departments:
archive, science library

Collections volume:
30371, rare collection's items: 23087



Web sites and CD-disks:
above

Copyright (c) 1996-2023 Museum-Reserve of A.P. Chekhov "Melikhovo"
Copyright (c) 1996-2023 Russian Museums .info