District Cultural Institution "Podolsk local history museum"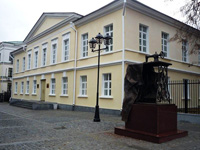 Phone: (496) 755-92-34

Address: 142100, Moscow region,

Working hours:*

Internet:
www.russianmuseums.info/M481 - official web page
Podolsk local history museum - W1330, official web site pkmuseum.ru/



E-Mail:




billboard, events and excursions




Description:


The museum was opened in 1971. It was created by the efforts of enthusiasts. The museum is situated in several historical buildings and owns some unique collections. The subsection "Archeology" is generally accepted as the best among the museums of Moscow area. Huge interest is aroused by Podolsk countryside trades exhibition. There can be found a unique collection of "Singer" sewing machines. In the alone-standing building the exposition "Nature of Podoslk countryside" can be found. In October 2011 a new exposition "230 Years of Podolsk" was opened in the restored building. It tells us about the most important events in the history of the town and the country: Patriotic War of 1812, the glorious deeds of Podolsk cadets during the Battle of Moscow in 1941, about the industry and culture of the town. The design of the exposition was created by the workshop of Honoured Artist of Russian Federation Alexander Konov "MuseiMedia" and has highly innovative character based on bringing the visitor to the dimension of history



Museum's services:
museum shop, lecture hall

Next to the museum there are:
restaurant(s) or caffes




for museum professionals


Administrative phone:
(496) 755-92-32, Fax: (496) 757-47-31



Foundation and opening day:
founded: 1965г.
opened: 11.06.1971

Organisation status:
Municipal

Organization form:
non-for-profit

Organisation type:
culture for society

Classification:
Natural history,Historical,Regional museum,Painting art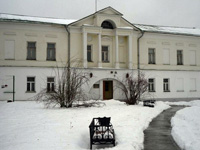 Squares:
permament show rooms 587,4м2
temporary exhibitions 50м2
museum's store 65,6м2
museum's parks 1,2га

Employee number:
28 (curators: 7)

Average visitors per year:
13315


Specific departments:
science library

Collections volume:
43329, rare collection's items: 34505



Web sites and CD-disks:
above

Copyright (c) 1996-2022 District Cultural Institution "Podolsk local history museum"
Copyright (c) 1996-2023 Russian Museums .info