Leo Tolstoy Museum-Estate "Yasnaya Polyana"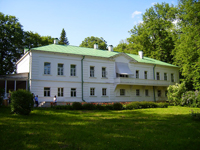 Phone: (48751) 76 125 - экскурс., (4872) 39 3599 - туризм

Address: 301214, Tula region, "Yasnaya Polyana" settlement, Shekinskiy region

Working hours:*

Internet:
www.russianmuseums.info/M531 - official web page
Leo Tolstoy Museum-Estate "Yasnaya Polyana" - W697, official web site ypmuseum.ru/



E-Mail:




billboard, events and excursions




Description:


The country estate of the late 18th- the early 19th century has preserved its look up to this day. It includes the Tolstoy house with original furniture and library, a guest wing used for changing exibitions and a house for the domestic staff which is now occupied by the administration. There are several farm buildings, parks with a cascade of ponds laid out at the end of the 18th century. Noteworthy are the apple orchads which occupy 40 hectares and the forests planted mostly by Tolstoy in 1870-1900. Here in Stary Zakaz wood the writer was buried in November 1910.



Museum's services:
museum shop, museum's caffe

Museum has :
folk group

Next to the museum there are:
hotels and restaurants




for museum professionals


Administrative phone:
(4872) 50 2932, Fax: (4872) 38 6710



Foundation and opening day:
founded: 10.06.1921

Organisation status:
Federal

Organization form:
non-for-profit

Organisation type:
culture for society, scientific

Classification:
Architect and monuments,Historical,Literature,Museum preserve,Memorial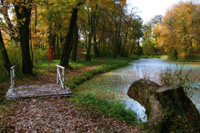 Squares:
permament show rooms 2135м2
museum's store 441м2
museum's parks 412га

Employee number:
505

Average visitors per year:
130000


Collections volume:
49876, rare collection's items: 42025



Web sites and CD-disks:
above

Copyright (c) 1996-2022 Leo Tolstoy Museum-Estate "Yasnaya Polyana"
Copyright (c) 1996-2023 Russian Museums .info