The museum "Kadashevskaya sloboda"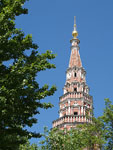 Phone: (495) 953-1319, (925) 131-1906

Address: 115035, Moscow,

Working hours:* Warning:
preodered visits only

Internet:
www.russianmuseums.info/M543 - official web page
The museum "Kadashevskaya sloboda" - W1725, official web site museumkadashi.com/



E-Mail:




billboard, events and excursions




Description:


The museum "Kadashevskaya sloboda" is located in old city behind Moskva river. The exposition include old printing church books, priests' vestments of the 19th century, ancient ceramics and coins, rare fragments of oven tiles of the 17-18th centuries. The visitors may look at the items of Russian country log house interior, wooden ware. The tour includes the visit to the beautiful church of Christ's Resurrection of the 17th century. The church is decorated by copies of the Byzantian and Old Russian wall-paintings of the 10-17th centuries. The tour also includes the visit to the belltower of the 17th century with exceptional panoramic view to Kremlin and old Moscow



Next to the museum there are:
restaurant(s) or caffes




for museum professionals


Administrative phone:
(495) 953-1319, Fax: (495) 953-1319



Foundation and opening day:
opened: 2004г.

Organisation status:
Private

Organization form:
non-for-profit

Organisation type:
culture for society

Classification:
Architect and monuments,Historical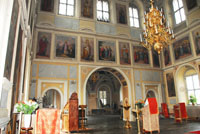 Squares:
permament show rooms 150м2

Employee number:
4 (curators: 2)

Average visitors per year:
около 2000


Collections volume:
3000, rare collection's items: 500



Web sites and CD-disks:
above

Copyright (c) 1996-2019 The museum "Kadashevskaya sloboda"
Copyright (c) 1996-2023 Russian Museums .info