The natural architectural archeological museum-reserve "Divnogorie"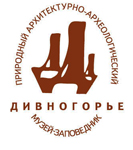 Phone: (473) 210-47-37

Address: 397770, Voronezh region, Lisky Recion, Hutor Divnogorie

Working hours:*

Internet:
www.russianmuseums.info/M670 - official web page
The museum-reserve "Divnogorie" - W1529, official web site divnogor.ru/



E-Mail:




billboard, events and excursions




Description:


The natural architectural archeological museum-reserve "Divnogorie" was founded in 1991.It is situated in Liski Area of Voronezh Region. The territory of the museum-reserve includes lands of historic, cultural and nature-protected purpose with a special regimen of exploitation. The area of the reserve is 1100 hectares. " Divnogorie" is an open-area museum.Its sightseeings represent historic and architectural monuments: cave chalk churches of the middle of XVII century in Bolshie (Big) and Malie(Small) Divy; a cave church "Divnogorskaya-3" of the middle of XIX century; an archeological complex " Mayatskoye Gorodische " of the middle of IX-X centuries; archeological sites of the Bronze Age(2000 B.C.) and Upper Paleolithic Age; nature monuments - chalk columns- "Divy",unique landscape formations, relict vegetation, endemicinsects. On the territory of the reserve there are such museum objects as "Divnogorskoye Podvorye"-an ethnographic exposition , an archeological park - "From nomads'camp to towns" - the reconstruction of an early middle-aged settlement. The museum has a wide base for the development of different kinds of tourism: cultural, ecological,recreation, youth,educative and corporative. The museum-reserve has funds which include archeological and ethnographic objects, a documentary fund, geological, botanic and entomologic collections





Museum's services:
museum shop, lecture hall, museum's caffe

Next to the museum there are:
hotels and restaurants




for museum professionals


Administrative phone:
(473) 210-65-35



Foundation and opening day:
founded: 09.07.1991

Organisation status:
State Russia

Organization form:
non-for-profit

Organisation type:
culture for society, scientific

Classification:
Architect and monuments,Historical,Museum preserve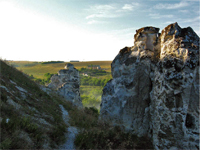 Squares:
permament show rooms 190м2
museum's store 28м2
museum's parks 1100га

Employee number:
30 (curators: 9)

Average visitors per year:
66000


Collections volume:
11519, rare collection's items: 4867



Web sites and CD-disks:
above

Copyright (c) 1996-2022 The natural architectural archeological museum-reserve "Divnogorie"
Copyright (c) 1996-2023 Russian Museums .info