The state historical and cultural and natural museum-reserve A.S. Griboedov "Kxmelita"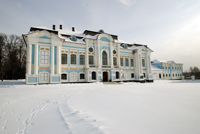 Phone: (48131) 306-29

Address: 215153, Smolensk region, Khmelita, Viazemsky raion

Working hours:*

Internet:
www.russianmuseums.info/M682 - official web page
Museum-reserve A.S. Griboedov "Kxmelita" - W2011, official web site khmelita.com/



E-Mail:




billboard, events and excursions




Description:


The memorial estate "Хмелита" is created by the Governmental order of RSFSR 356 from 10.09.1990 years with a view of propagation of work of A.S.Griboedov and conservation of unique landscapes A.S.Griboedov's time. The center of reserve - Griboedovyh Hmelita's patrimonial manor with which the childhood and A.S.Griboedov's early youth are connected. Here the unique museum in Russia the great playwright and protruding statesman A.S.Griboedov is opened in 1995. In territory of memorial estate there is a native land of admiral P.S.Nakhimov. In 2002 unique in Russia P.S.Nakhimov's museum here is opened. In 2009 under the decision of Committee " Victory " in territory of reserve the Memorial of memory of soldiers of the Western and Alternate fronts " Богородицкое a field ", defended approaches to Moscow in October, 1941 has been opened



Museum's services:
museum shop, lecture hall

Next to the museum there are:
hotels and restaurants




for museum professionals


Administrative phone:
(48131) 306-29



Foundation and opening day:
founded: 10.09.1990
opened: 1995г.

Organisation status:
Federal

Organization form:
non-for-profit

Organisation type:
culture for society, scientific

Classification:
Architect and monuments,Historical,Literature,Museum preserve,Memorial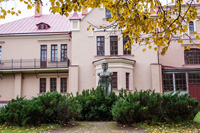 Squares:
permament show rooms 680м2
temporary exhibitions 65м2
museum's store 80м2
museum's parks 83га

Employee number:
93 (curators: 24)

Average visitors per year:
30 000


Specific departments:
archive, science library, experts team

Collections volume:
более 10000, rare collection's items: 6634



Web sites and CD-disks:
above

Copyright (c) 1996-2022 The state historical and cultural and natural museum-reserve A.S. Griboedov "Kxmelita"
Copyright (c) 1996-2023 Russian Museums .info