Museum "Winged Guards"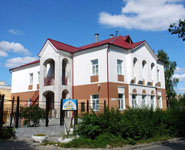 Phone: (343) 246-82-34

Address: 620028, Sverdlovsk region,

Working hours:*

Internet:
www.russianmuseums.info/M952 - official web page
Museum "Winged Guards" - W723, official web site museumvdv.ru/



E-Mail:




billboard, events and excursions




Description:


The Museum " Winged Guards" was opened in May. 1994. This is the second museum of history of Airborne Troops in Russia. The exhibition is dedicated to Airborne Forces. These Forces are considered to be the elite of Russian army. All rooms are designed in the avant-garde style with using of different materials. There are rare photos and documents among the exhibits, letters and awards of soldiers and officers, who live and still live in Urals region and other regions of Russia. There are materials about legendary paratrooper, the Hero of Soviet Union, general of army - Margelov V.F.



Next to the museum there are:
restaurant(s) or caffes




for museum professionals


Administrative phone:
(343) 246-50-80, Fax: (343) 246-50-80



Foundation and opening day:
opened: 21.05.1994

Organisation status:
State Russia

Organization form:
non-for-profit

Organisation type:
culture for society

Classification:
Historical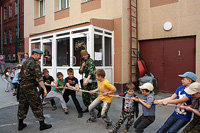 Squares:
permament show rooms 243,1м2
temporary exhibitions 39,9м2
museum's store 27,7м2

Employee number:
21 (curators: 4)

Average visitors per year:
13628




Web sites and CD-disks:
above

Copyright (c) 1996-2017 Museum "Winged Guards"
Copyright (c) 1996-2023 Russian Museums .info