The Nizhniy Tagil's museum-reserve "Mining and Work Ural"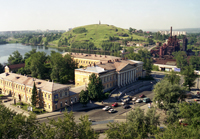 Phone: (3435) 37-02-01 доб. 330 и 331

Address: 622000, Sverdlovsk region, 1 Lenina pr., Nizhny Tagil

Working hours:*

Internet:
www.russianmuseums.info/M972 - official web page
The Nizhniy Tagil's museum-reserve "Mining and Work Ural" - W2048, official web site museum-nt.ru/



E-Mail:




billboard, events and excursions




Description:


The Museum-reserve is a great repository of the material and spiritual culture of the Urals' mining and metallurgical business foundation and development. It is a large cultural and historical center of the Urals region, numbering hundreds of thousands visitors yearly. The museum has 170-ears-long history. Its stocks contain the unique collections, which in former time belonged to factory-owners Demidovs.

The Museum-reserve has several branches: Nizhniy Tagil Museum of Local History; Museum of Nature and Environment; Museum of Home Life and Crafts of the mining population; Museum of History of Tray Manufacturing; Museum-Works of History of Metallurgy; Museum of History of Techniques; Memorial and Literary Museum of A.P. Bondin; Literary and Memorial Museum of D.N. Mamin-Sibiryak. The exhibitions of the Museum-reserve are located in buildings - monuments of architecture of the XVIII - XIX centu-ries (9 buildings).

The museum-reserve includes as its part the Eco-industrial technical park "Old Demidov's plant." Its exposition shows a dam, blast furnace shop, open-hearth shop, rolling mill, water conduit, an exhibition of the railway transport, etc.



Museum's services:
museum shop, public library

Museum has :
folk group

Next to the museum there are:
hotels and restaurants




for museum professionals


Administrative phone:
(3435) 37-02-77 доб. 301



Foundation and opening day:
founded: 1841г.

Organisation status:
Municipal

Organization form:
non-for-profit

Organisation type:
culture for society, scientific

Classification:
Historical,Regional museum,Museum preserve,Science and technics,Memorial,Painting art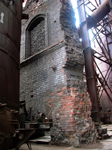 Squares:
permament show rooms 8326,6м2
temporary exhibitions 633,6м2
museum's store 983,5м2

Employee number:
274 (curators: 46)

Average visitors per year:
128720


Specific departments:
archive, science library, restoration dep. по органике, живописи и металлу

Collections volume:
450286, rare collection's items: 307932



Web sites and CD-disks:
above

Copyright (c) 1996-2022 The Nizhniy Tagil's museum-reserve "Mining and Work Ural"
Copyright (c) 1996-2023 Russian Museums .info