Museum complex "Kulikovo Field"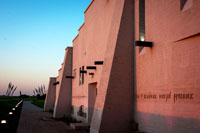 Phone: (48743) 4-3601

Address: 301949, Tula region,

Working hours:*

Internet:
www.russianmuseums.info/M1482 - official web page
The Kulikovo Field - W541, official web site kulpole.ru



E-Mail:




billboard, events and excursions




Description:


Museum complex "Kulikovo Field" is situated in the immediate proximity of the battlefield. It is provided with developed modern infra-structure (free parking lots, tourist reception center, cafe, souvenirshops), anobservation platform and spacious exposition halls. The new museum brings a new life to the memorial place, the battlefield of 1380. Here, in 2016, stationary exposition "The Narration of Mamai Massacre. The New Perusal" was opened, temporary exhibitions follow each other.

The history of Kulikovo battle is presented by the new museum in two planes. At first, the story of the battle of 1380 is based on "The Narration of Mamai Masscre". It is supported with authentic evidences of Kulikovo battle – archeological findings, discovered by researchers on the battlefield. Next, the chronicle narration is subjected to comprehensive scientific analysis, and Kulikovo battle appears before a visitor in the light of modern scientific knowledge.

The results of diversified scientific activity in study in the history of Kulikovo battle and Kulikovo field, led by the museum for decades, are presented in the museum exposition. Archeologists, anthropologists, historians of major scientific institutions of the country, famous Russian painters worked on the creation of the exposition. Models of battlescenes, dioramas of the historic landscape and ancient Russian settlement of Kulikovo field, restored pottery and metallurgic furnaces of XIV century, ground monoliths are presented in museum halls. There are authentic archeological findings and scientific reconstructions of armory and weapons, anthropological reconstructions in the showcases



Museum's services:
museum shop, lecture hall, museum's caffe, playground, equipped for people with disabilities

Next to the museum there are:
hotels and restaurants




for museum professionals


Administrative phone:
(4872) 36-18-40



Foundation and opening day:
founded: 30.12.2015
opened: 25.10.2016

Organisation status:
Federal

Organization form:
non-for-profit

Organisation type:
culture for society

Classification:
Historical,Museum preserve,Painting art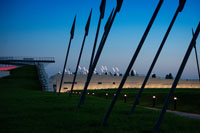 Squares:
permament show rooms 2000ì2
temporary exhibitions 288,6ì2
museum's store 134,6ì2
museum's parks 40ãà

Employee number:
61

Specific departments:
archive, science library

Collections volume:
2342, rare collection's items: 1285



Web sites and CD-disks:
above

Copyright (c) 1996-2020 Museum complex "Kulikovo Field"
Copyright (c) 1996-2023 Russian Museums .info